The 2019 Global Best Innovation 100 (GBI100) Competition is an international competition that features R&D and innovation. The Competition is organised by the Organising Committee of the GBI100 Competition, and co-organised by the CBT100 Forum, Xishan District of Wuxi, Xinjiang Zhongtai Group, Chinese Universities (East China / South China) Science and Technology Achievement Transformation Centres, and the Association for Collaborative Leadership (ACL). Partners of the Competition also include but are not limited to Silicon Valley Innovation and Entrepreneurship Forum, Shanghai Found Kechuang Industrial Group, MetaLab, and Pegasus Brigade. The Competition provides 100 award-winning opportunities, with the highest prize worthy of 1 million US dollars.
The competition consists of four fields: artificial intelligence and information; life sciences and health; new energy and new materials; as well as cultural creativity, film and electronic sports. Below are instructions on how to find and invest in high-quality projects.
01
Registration
Step One
Log on to the website (WWW.GBI100.COM) and select "Join in GBI100"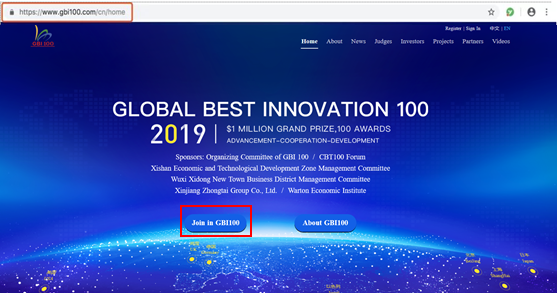 Step Two
①Create an account for new users (existing users can log in directly)
②Select registration identity – "I want to invest in projects"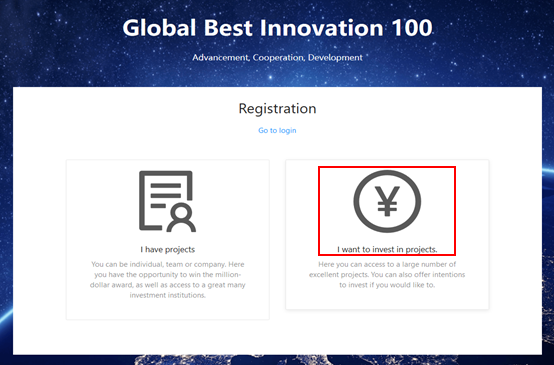 ③ Fill in registration information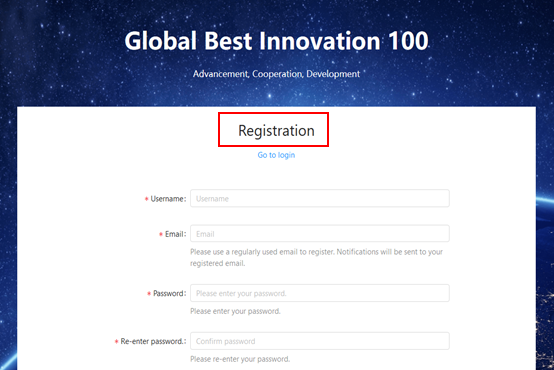 *The checking process will speed up if an invitation code is provided (for partners only)

Step Three
After registration, you will receive an email with an activation link, click activation to activate your account.
02
Identity Verification
Step One
Upon successful log-in, click "investor certification"

Step Two
Fill in required information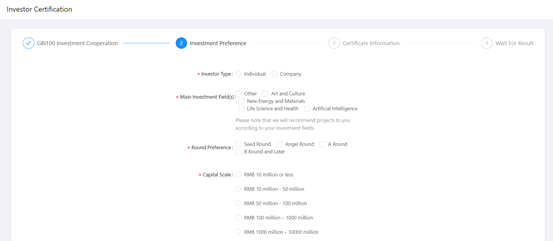 You will receive notifications after verification

03
Project Investment
Step One
①Click and enter the project investment page

②You can review all the verified projects that are recommended to you, and select projects based on your investment intention (e.g. fields, stages)

Step Two
①Click to review projects in detail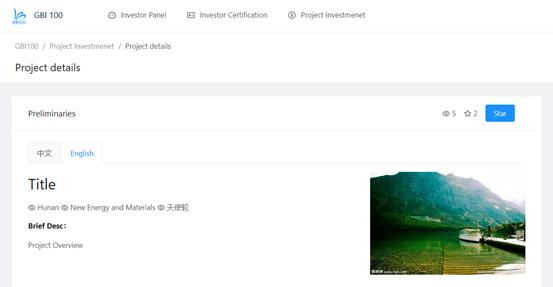 ② Review the projects that you are interested in, become judges by submitting your investment intention, and gain opportunities to get in contact with projects.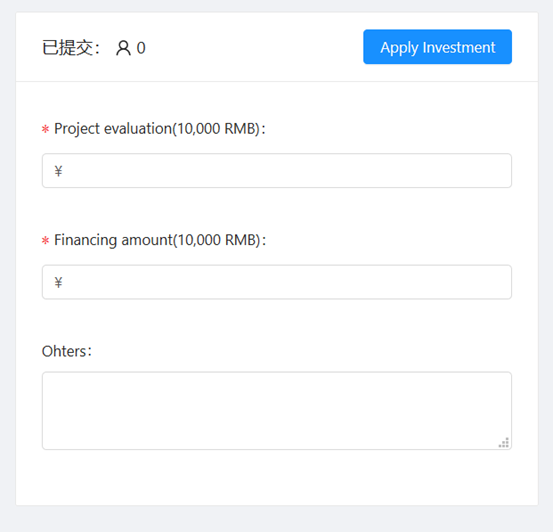 04
Project Review
Click "project review" to rate unreviewed projects

*All rights reserved for the Organising Committee of the GBI100 Competition
"You can become one of the partners of the competition by actively inviting R&D and innovation projects to participate in the competition. Meanwhile, you can participate in project review by registering your investment intention."

Owners of projects who are interested in participating in the Competition or the concessionaires of the Competition can register via the Competition official platform (www.gbi100.com), and upload relevant project information online as required (find the "Project Registration" section). For more information, please refer to the official platform of the Competition or directly contact the Organizing Committee of the Competition.
Phone: +86-21-64071011
Email: info@gbi100.com
Address: 6th Floor, No. 7876 Humin Road, Minhang District, Shanghai
2019 Global Best Innovation 100 Competition, Together to Create A Better Future!